Ribera del Duero Wines for Springtime Sipping
Image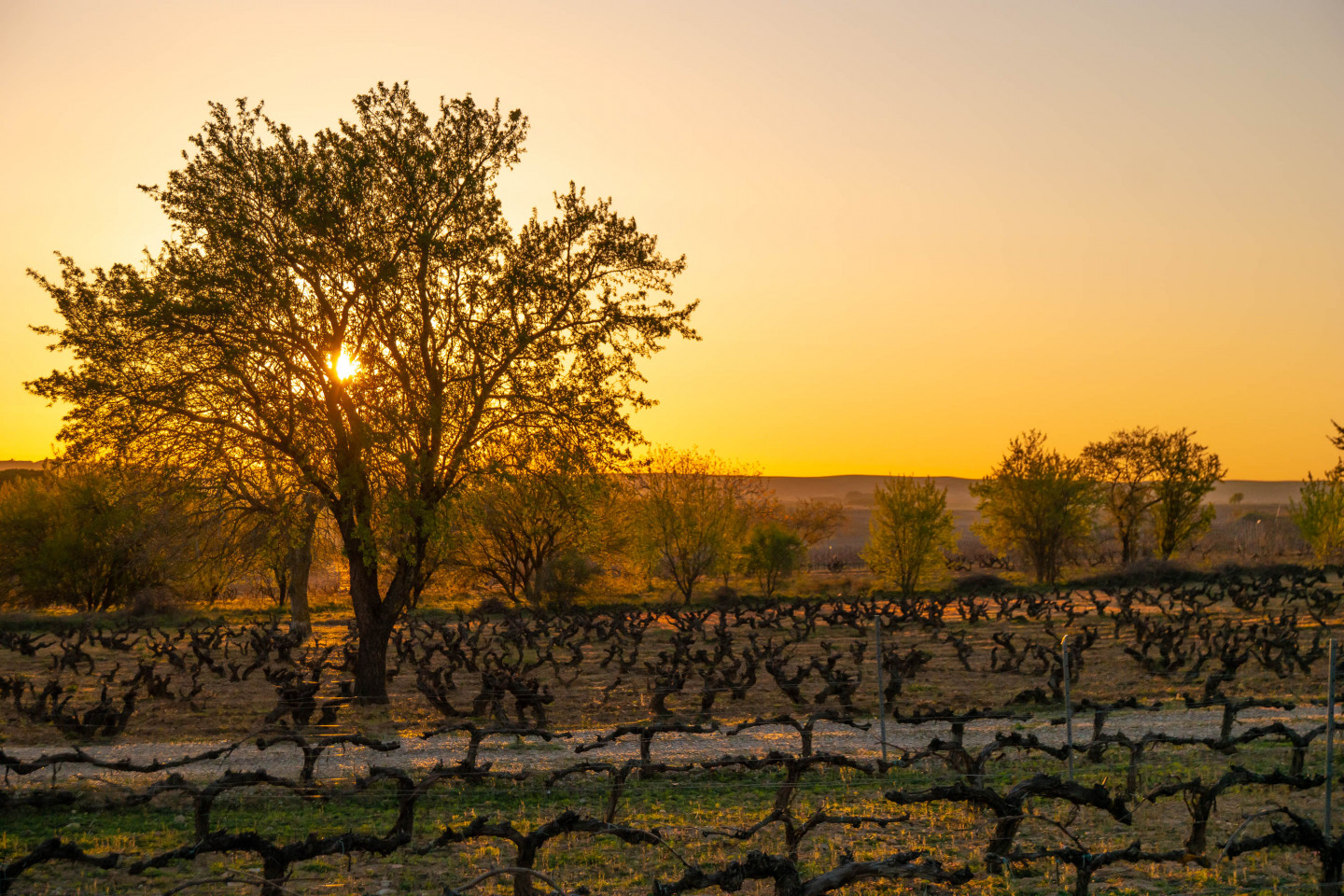 At last, days are getting longer and warmer, the perfect excuse to try something new. 
Located in Castilla y León, north of Madrid, Ribera del Duero D.O. is the cradle of many of Spain's most sought-after and applauded wines. Benefiting from an array of complex soils, old vines, high altitudes and challenging climates, each and every wine from this extraordinary region is an honest reflection of its own unique terroir. Although Ribera del Duero is predominantly a red wine region it also produces exemplary rosés and white wines well worth exploring this season. 
It's only since 2019 that Ribera del Duero has allowed the production of white wines under the Denominación de Origen, using Albillo Mayor, a local grape that offers a beautiful spectrum of styles, that along with the rosés are a perfect match for spring salads and seafood dishes.
The Reserva and Gran Reserva red wines, made from Tinto Fino, are complex and bold, ideal for guests who enjoy bolder wines or are a great match for heartier meals such as lamb shanks. The younger Cosecha red wines are fresh, more fruit-forward and an excellent accompaniment to lighter dishes, perhaps served at the first barbecue of the year.
Examples of exceptional Ribera del Duero wines for spring drinking are included overleaf. All are accompanied by tasting notes from Tim Atkin MW and were included in his list of Top 100 Ribera Del Duero wines 2021/2022, which can be viewed via the Ribera Del Duero website: Top 100 Ribera Del Duero Wines 2021. 
Whites
---
Félix Callejo El Lebrero Cosecha 2020, RRP £21.80 at Vinissimus
The Callejo family have been making a pure Albillo Mayor since 2012, but it's only in the last two years that it has been able to call itself a Ribera del Duero. This wine comes from two high-altitude parcels - La Virgen and El Lebrero itself - and is fermented in concrete  eggs, larger oak and stainless steel, with around a third of the blend seeing skin contact. Spicy and perfumed, with vanilla top notes, chalky freshness, some cream and orange peel and good un-derlying structure. Drink 2022-26.
94 points
Tr3smano Blanco de Albillo Mayor 2019, RRP £26 at Drinks & Co
TM comes from a 100-year-old vineyard on the border between Anguix and La Horra. Now in its fourth vintage, it's a serious, full-bodied Tinto Fino that shows its low yields. The new French oak is very well handled, framing the layered perfumed fruit. Fresh despite the power and weight, this has chalky minerality, dark berry flavours a balsamic lift. Classy stuff. Drink 2023-30.
95 Points
 
Cosecha
---
Valduero, Valduero Terra Alta en 2 Maderas 2017, RRP £22.69 at Vinissimus
Labelled as "En 2 Maderas", this pure Tempranillo comes from 40-year-old vines in the Las Negas parcel at over 800 metres. Aged in a 70/30 combination of French and American oak – the two woods – this floral, fresh and mineral, with red fruit intensity, some clove and vanilla spice and a fresh, chalky finish. Subtle, nuanced and well judged. Drink 2021-2027. 
93 points
Aalto Bodegas y Viñedos Aalto Cosecha 2019, RRP £26.67 at Justerini & Brooks
Few Ribera de Duero wines combine grapes from so many sources - 200 parcels from 30 sup-pliers in nine villages - as this regular release from Aalto. Youthful, perfumed and structured, with scented 30% new French and American oak, notes of cigar box, cinnamon, red berry and blackberry,supple tannins and enough acidity for balance. Ripe and glossy. Drink 2023-27.
94 points
Bodegas Áster Finca El Otero Cosecha 2018, RRP £35.68 at Armit Wines
The old-vine component of the El Otero parcel, running to around seven hectares, supplies the fruit for this ageworthy Tinto Fino. After a frost-induced break in 2017, it's back with interest in 2018. Aged in new French oak, but not dominated by the wood, it's a finely judged red from Julio Sáenz with notes of blackberry and tangerine, filigree tannins and a long, textured finish. Drink 2023-33.
96 points
 
Ausàs Interpretación Cosecha 2019, RRP £44 at Decantalo 
Ausàs is made by Xavier Ausàs, the former long-term winemaker at Vega Sicilia, and has established itself in the space of just four vintages as one of the best wines in the region. Very much a pan-regional red, with components from Gumiel de Mercado, Moradillo, Nava de Roa and Roa, sourced from growers and some of his own vines, this is a youthful, engagingly perfumed Tinto Fino that's much more than the sum of its parts. Pure, perfumed and well-balanced, with voluptuous tannins, raspberry and blackberry fruit and bright, balancing acidity. Drink 2024-31.
96 points
 
Reserva & Gran Reserva
---
Bodegas Navarro Balbas, Nabal Reserva Selección de la Familia 2015, RRP £19.00 at Solaris Wines
The Navarro Balbás family's top wine is a refined expression of the generally concentrated 2015 vintage, all sourced from 70-year-old vineyards at 880 metres in Gumiel de Izán and picked a little later for "structure", according to winemaker Óscar Navarro. Aged in new French oak for 24 months, it's a winning combination of the weight of a warmer year and the freshness of a high zone, showing lovely texture and zip and filigree tannins. Drink 2021-27. 
93 points
Bodegas La Horra Corimbo I Reserva 2016, RRP £25 at Noble Green Wines
Bodegas La Horra's top wine is built to age, eschewing easy drinkability in its youth. This hails from vineyards in five higher altitude Burgos vineyards with an average age of 60 years. Intense, savoury and sinewy, with some chalky freshness, notes of incense and dried herbs and layers of damson and tobacco leaf. Give it a few more years in bottle. Drink 2023-28.
94 points
Hermanos Sastre Pago de Santa Cruz Gran Reserva 2015, RRP at Decantalo
If Pesus is Jesús Sastre's unashamedly modern Ribera de Duero offering , this is altogether more classic and traditional wine, aged in a mixture of older French and 30% American oak. Spicy, savoury and high-toned, with a slight volatile lift, fine tannins, lots of perfume and notes of tobacco leaf and Asian spices. Complex, refined and very long. Drink 2022-27
Bodegas Arzuaga Navarro Reserva 2018, RRP £30.65 at Decántalo
Ignacio Arzuaga may bemoan the fact that people drink his Reserva too young - the bodega's wine ages extremely well - but there's no denying that they are a pleasure to consume at dif-ferent points in their evolution. This assemblage of Tinto Fino with 4% Cabernet Sauvignon and 1% Merlot is a case in point, with fine, granular tannins, subtle oak, a hint of balsam and lovely poise and freshness. Drink 2022-30.
94 points
---
-ENDS-
A very limited number of samples of these and other examples of Ribera del Duero 
wines are available on request.
For more information or images, please contact Mick Steward at CUBE Communications
mick@cubecom.co.uk 07885261884